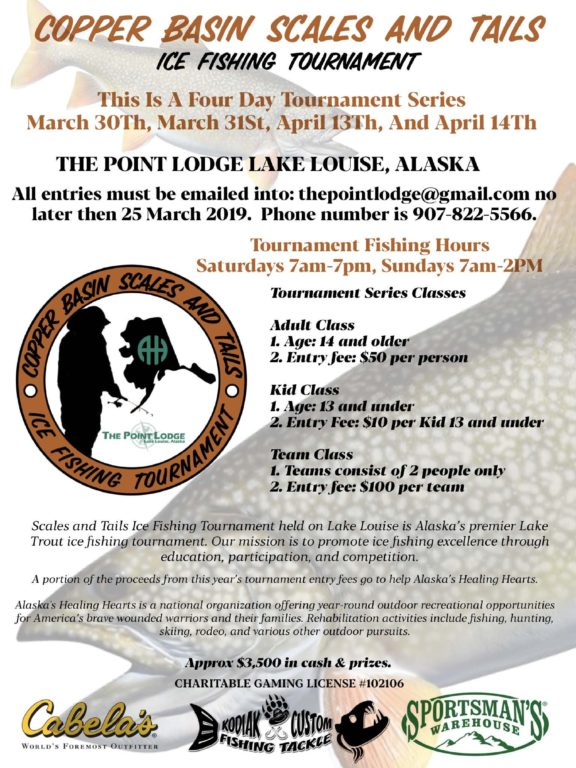 This is a 4 day Catch and Release Tournament!
Your placement will be decided by the best daily total that you achieve through out the 4 days.
Example. Day 1 you catch 4 fish for a total of 120", than Day 2 you catch 4 fish at for a total of 121". Day 2 will be the one used for the placement in the tournament.
This gives the opportunity for participants who cannot make it to all the tournament days a chance to place in the top 3 or gives a participant the opportunity to improve in their overall placement in the tournament class that they signed up for. (Adult, Kid, & Team)
Tournament Days
March 30th, March 31st, April 13th, and April 14th
Tournament Registration and Meeting each Day- 6:30 AM The Point Lodge
Tournament Fishing Hours – Saturdays 7am-7pm, Sundays 7am-2PM
Tournament Daily Fish Check in time- Saturday 7:00pm, Sundays 2pm (MUST BE IN NLT 15 minutes after close of fishing or you will be disqualified)
Registration
1. Registration for the tournament must completed prior to March 25, 2019 by 5pm.
2. Every team/person/child must be registered prior to fishing any tournament day.
3. All teams will provide the name of team members at the time of registration. Additional alternates, up to 2, may be added up to and including the day of the tournament. One member of the original team must be present for a team to fish. (Two alternates cannot fish together in representation of the registered team.)
4. All entries must be emailed into thepointlodge@gmail.com
Phone number is 907-822-5566.
5. The email must contain the class you want to enter, names of anglers and a valid email address.
6. Point Lodge will email an invoice for payment of entry fee.
7. A $10 late fee will apply to any entry after March 20th.
The morning of each tournament day all contestants must meet in person at The Point Lodge 6:30am and 7:00am. Each contestant must sign a Liability Waiver, fill out a registration for that days fishing, provide proof of valid fishing license, receive the measuring tool, and be present for the rules briefing.
Tournament Series Classes
Adult Class
1. Age: 14 and older
2. Entry fee: $50 per person
Kid Class
1. Age: 13 and under
2. Entry Fee: $10 per Kid 13 and under
Team Class
1. Teams consist of 2 people only. No friends, or other acquaintances may be present during tournament hours.
2. Entry fee: $100 per team.